The unofficial bird of Austin, the tower crane, has been quite active these past few months.
New towers are being completed, new housing projects are moving dirt and the training facility for Austin's first major professional sports franchise was recently completed.
Two downtown high-rises — Indeed Tower and 300 Colorado — are set to be delivered to tenants in the coming months, while by the end of summer downtown will have three new hotels. Austin FC, meanwhile, has opened its training facility in North Austin. And amid the area's major housing shortage, there are apartments and condominiums being built all over town.
So, despite lingering effects from the pandemic, the commercial real estate sector is clearly humming along.
Austin Business Journal has updated its Crane Watch database of large commercial projects across the metro. Below, read some updates on big buildings under construction or proposed from downtown to the suburbs, and scroll to the bottom of the story for a map.
Downtown high-rises
Indeed Tower, the 36-story office high-rise at 200 W. Sixth St., is on pace to be delivered to tenants this summer. The building is the largest and tallest pure office buildings in Austin at 709,000 square feet. That easily surpasses Frost Bank Tower, which for years has topped our annual list of the largest multi-tenant office towers at more than 530,000 rentable square feet.
Also on pace to deliver this summer is 300 Colorado. The trophy building is mostly complete but suffered a major blow in March, when social media giant Facebook Inc. (Nasdaq: FB) walked away from lease negotiations, sources said. The California-based company was seeking to fill the entirety of the new building. Now 300 Colorado is back on the sublease market. The 32-story high-rise was leased almost entirely by Austin-based oil and gas company Parsley Inc. However, Parsley was purchased by Irving-based Pioneer Natural Resources (Nasdaq: PXD) earlier this year and had plans to shut down its local offices.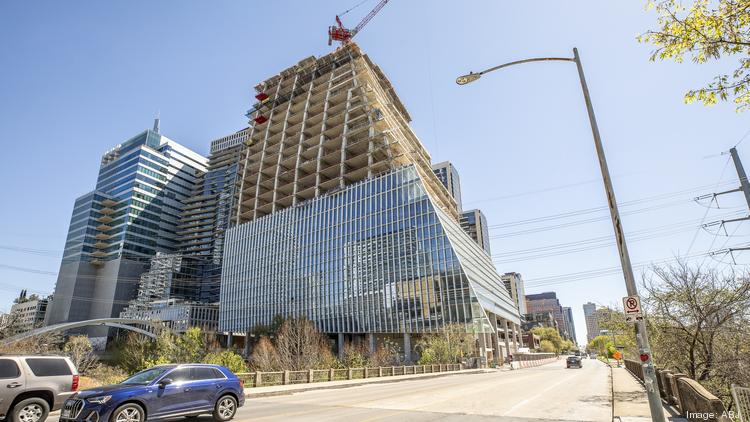 The sail-like design of the Block 185 tower at Cesar Chavez Street and West Avenue is now easy to see. It has been entirely leased by internet giant Google LLC.Windows have been added to the first few floors, while the tiered setback of upper floors is clearly visible. DPR Construction, which is the project's general contractor, expects to make significant progress on the project in May, with top out slated for August. Block 185, once completed, will stand 37 stories and 590 feet tall, with about 800,000 square feet of leasable office space. The new tower could be delivered in the second quarter of 2022.
Downtown Austin's southern extension also continues to take form, as the structure for RiverSouth is up and windows have been placed on the lower floors. The 15-story high-rise at 401 S. First St. has at least 10 floors built.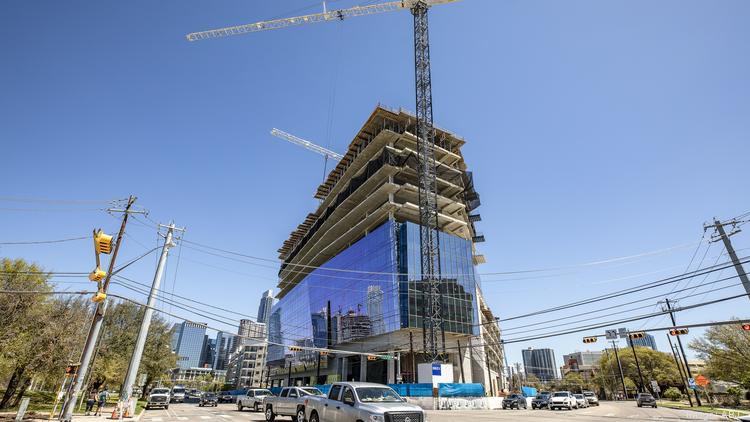 New hotels
Marriott Austin Downtown was the first high-rise completed and first downtown high-rise to open since the start of the pandemic. The 31-story, 613-room hotel (with 25 suites) opened its doors on March 4 — about eight months after it was originally scheduled to debut. Marriott used the several months between the original opening date and the rescheduled date to establish health and safety protocols, such as installing plexiglass at each registration desk and creating social distancing rules for meeting rooms and outdoor dining spaces. Guests can use their smartphones to control the elevator and in-room television. The registration process includes touchless check-in and check-out.
The 214-room Hilton Garden Inn Austin University Capitol District at 301 W. 17th St. is slated to open in the summer. HRI Holdings Inc., which manages the 18-story hotel tower, declined to specify an exact opening date. The building is mostly finished, however. Details about the property can be found here.
The 212-room Thompson Austin/Sienna at Austin at 501 Brazos St. is also slated to open this summer, and, like the Hilton Garden Inn, did not specify an exact opening date. Also like the Hilton Garden Inn, most construction is complete at the Thompson Hotel, with a few bells and whistles remaining.
Apartments, condos
One Oak, a 106-condo community, is planned in one of Austin's most desirable ZIP codes: 78704. Vancouver-based Intracorp Projects Ltd. will develop the 221,000-square-foot project at 2209 S. First St., which was once home to the eclectic Slackerville retail center. The project is slated to be completed by late 2023. Also attached to the project as a "profit participation interest" is Rastegar Property LLC.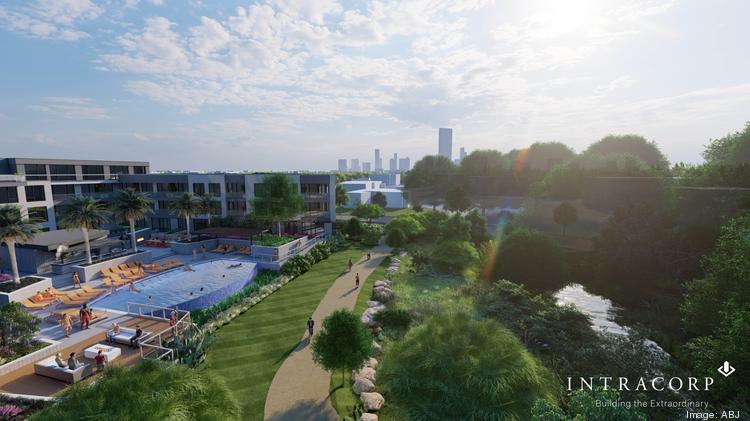 Houston-based Transwestern Investment Group, meanwhile, announced it partnered with Houston-based Stanmore Partners LLC to develop Stanmore Warner Ranch, a 336-apartment project at 2630 South A.W. Grimes Blvd. in Round Rock. The multifamily property will feature seven garden-style buildings and residential amenities such as a business center, a fitness center, outdoor courtyards, a resident lounge and a resort-style swimming pool.
Dirt recently moved on another residential project in Leander. Wood Partners broke ground on Alta Leander Station, a 276-apartment community with a mix of one-, two- and three-bedroom apartment homes at 348 Main Street. The community is under construction and is on pace to open by the summer of 2022.
Dallas-based StreetLights Residential, a division of SLR Texas Construction LLC, has broken ground on the third phase of an apartment community in Austin's fast-growing Lakeline area. The project, which does not have an announced name yet, will have 377 units with one-, two- and three-bedroom floorplans ranging from 676 to 1,763 square feet. SLR Construction LLC is the general contractor while StreetLights Creative Studio is the architect of record. StreetLights Creative Studio will also oversee interior design. The other two phases developed by StreetLight Residential were the 415-unit The Michael at Presidio, completed in 2016, and the 373-unit The Elizabeth at Presidio, completed in 2019. The Michael features both apartments and townhomes, while The Elizabeth only has apartments.
Presidium Group LLC is moving forward with Presidium Waterford, a 283-apartment building at U.S. Highway 183 and Waterford Centre Boulevard in North Austin. The six-story, 281,533-square-foot apartment building will be located at 9127 Research Blvd., the location of an old shopping center that housed taco shop Veracruz All Natural, Machine Head Coffee and other businesses. It is less than 2 miles south of The Domain down Burnet Road and surrounded by industrial buildings home to breweries and warehouses.
Dash of professional sports
St. David's Performance Center, the $45 million training facility for Austin FC, has been completed, just ahead of the team's debut season in Major League Soccer. The 23-acre training facility is in the Parmer Pond district within Parmer Austin, an office campus developed by Karlin Real Estate. It is about 7 miles from Q2 Stadium, where construction continues ahead of a home opener set for June 19 against the San Jose Earthquakes.
Austin FC will begin its inaugural 2021 season on April 17 versus Los Angeles FC. The St. David's Performance Center will double as the training facility for Austin FC's first team and the club's academy teams.