Banyan Residential LLC has chosen Pflugerville for its next build-to-rent community, a housing option that has become increasingly popular in Central Texas with its persistently high purchase prices.
The Los Angeles-based real estate investment firm closed on 34.4 acres at 2601 Crystal Bend Dr. in December. Company officials did not disclose the purchase price.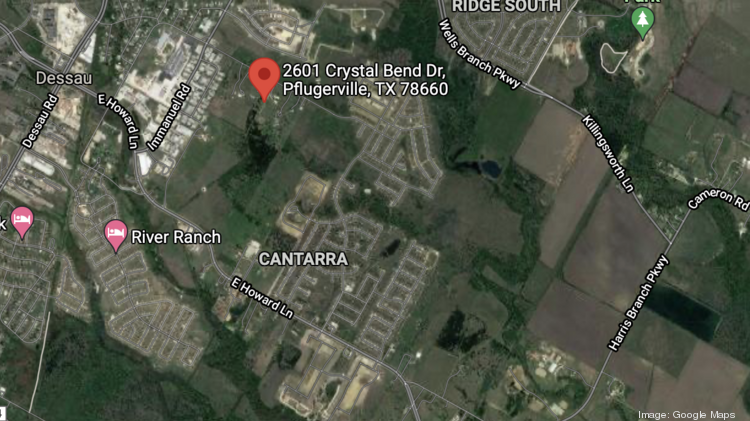 The build-to-rent community will ultimately have 230 single-family homes, as well as standard amenities including a pool, fitness center and green space. The homes will be market rate, with rents comparable to class A apartments of similar size, the company said. Banyan has partnered with Salt Lake City-based real estate investment manager Bridge Investment Group LLC on the project.
Officials expect construction will begin this fall.
This is Banyan Residential's third single-family rental community in Texas. It was also behind Banyan Kingsland Heights, a 96-home community near Houston, and Banyan Bunton Creek in Kyle, a 163-home community that's still under construction. The Kyle community is set to begin leasing this spring.
Executives chose the Pflugerville location because of its proximity to tech employers, including in Tech Ridge and Parmer Austin.
"This location benefits from the many vibrant attractions in Austin, from entertainment and cultural venues to growing employment opportunities and high quality of life," said Ryan Seeley, vice president at Banyan Residential.
The area's population growth has not gone unnoticed by developers. Seeley said Central Texas has "one of, if not the best, employment and population growth stories in the nation."
Central Texas has exploded in population in the past decade. Travis County grew by about 26% from 2010 to 2020, while Williamson County grew by 44%. Hays County was the fastest-growing county in the U.S. during the period, growing by 53%, according to U.S. Census Bureau data.
This population growth is in part due to rapid job creation. Through November, roughly 23,150 jobs were announced for the metro through corporate relocations or expansions, according to data from the Greater Austin Chamber of Commerce. This was partly driven by huge tech investments in the area, including 2,000 new jobs associated with Samsung's forthcoming plant in Taylor.
The build-to-rent market really took off in Central Texas in 2021, as people craved more space and privacy than offered by traditional apartments. At the same time, buying a home was firmly out of reach for many residents, as median home prices soared. In November, the median home price in the Austin metro reached $470,000, according to the Austin Board of Realtors.
In 2021, companies such as Wan Bridge Group, Taylor Morrison, UM Development LLC and Aspen Heights Partners LP announced single-family rental communities in the Austin area. One of those UM Development communities is in Pflugerville, about 5 miles from Banyan's site.
"For Banyan, our goal in developing this build-to-rent asset type is to offer an alternative rental option that couples the professional management and amenities of a traditional apartment community with the extra space, yard and garage of a single-family home," Seeley said.
Need more information?
We are always happy to offer our help. If you have any queries or feedback regarding our services. Feel free to contact us on any of the following phone numbers. You can also leave us an email and we will get back to you as soon as possible.